Detroit Wedding Party Bus
The best kind of transportation for a wedding, hands down, is a party bus. You can most likely fit your entire bridal party on the bus, and you can party the night away in between wedding destinations! The limo bus can pick everyone up at their houses and the party can begin immediately. It doesn't get any better than that.
After having been to so many weddings in recent years, we have come to really dislike traditional limos and other modes of transportation in comparison to renting a party bus! Everything else is so cramped and uncomfortable. If you haven't had the pleasure of traveling in a party bus yet, you don't know what you're missing!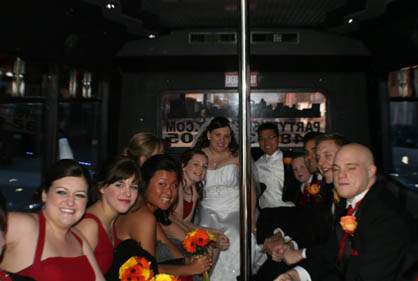 The best party bus company that we have had experience with is Party Bus Detroit. Their buses are spacious and beautifully decorated, with gorgeous LED lighting, flat screen televisions, excellent sound systems, and really comfortable leather wraparound seating.
As a bonus, when booking a wedding package along with a bachelor or bachelorette party travel package, you will get a full hour of service at no additional cost. We love that.
Beyond the usual perks of renting a party bus, you'll also get red carpet service, exterior decorations, the couple's names on the vehicle, and a just married sign, plus a couple of bottles of champagne, cups and ice, and bottled water. They really care about giving you a great experience here.
If you'd like to find out more about Party Bus Detroit, you can visit their website at www.partybusdetroit.com, or reach them by phone at (248) 630-5605. Their business address is 20759 Sunnydale #2, Farmington Hills MI 48336.
Thank you for visiting Wedding Locations Detroit!